On July 28, 2021, the NSW Government announced that the Greater Sydney Lockdown will be extended by a further four weeks to August 28, 2021. This includes the Central Coast, Blue Mountains, Wollongong and Shellharbour areas.
Strict Lockdown Zones
There are now 8 local government areas who are not permitted to leave their LGA with the exception of health and aged care workers or workers on the authorised list. These LGAs are Fairfield, Canterbury-Bankstown, Liverpool, Cumberland, Blacktown, and the newly added councils of Parramatta, Campbelltown and Georges River.
Business Support Expanded
JobSaver payments have been expanded to businesses with an annual turnover of between $75,000 and $250 million, up from $50 million who have experienced a revenue decline of 30% or more. JobSaver payments are expected to start hitting bank accounts from 31 July or 5-10 business days from your approval date.
The maximum weekly payment has also been increased. Employing businesses that maintain their employee headcount can now receive between $1,500 and $100,000 per week. Payments are based on 40% of your weekly NSW payroll.
Non-employing businesses remain eligible for a maximum of $1,000 per week.
Click the summary below to view in full size and download the pdf.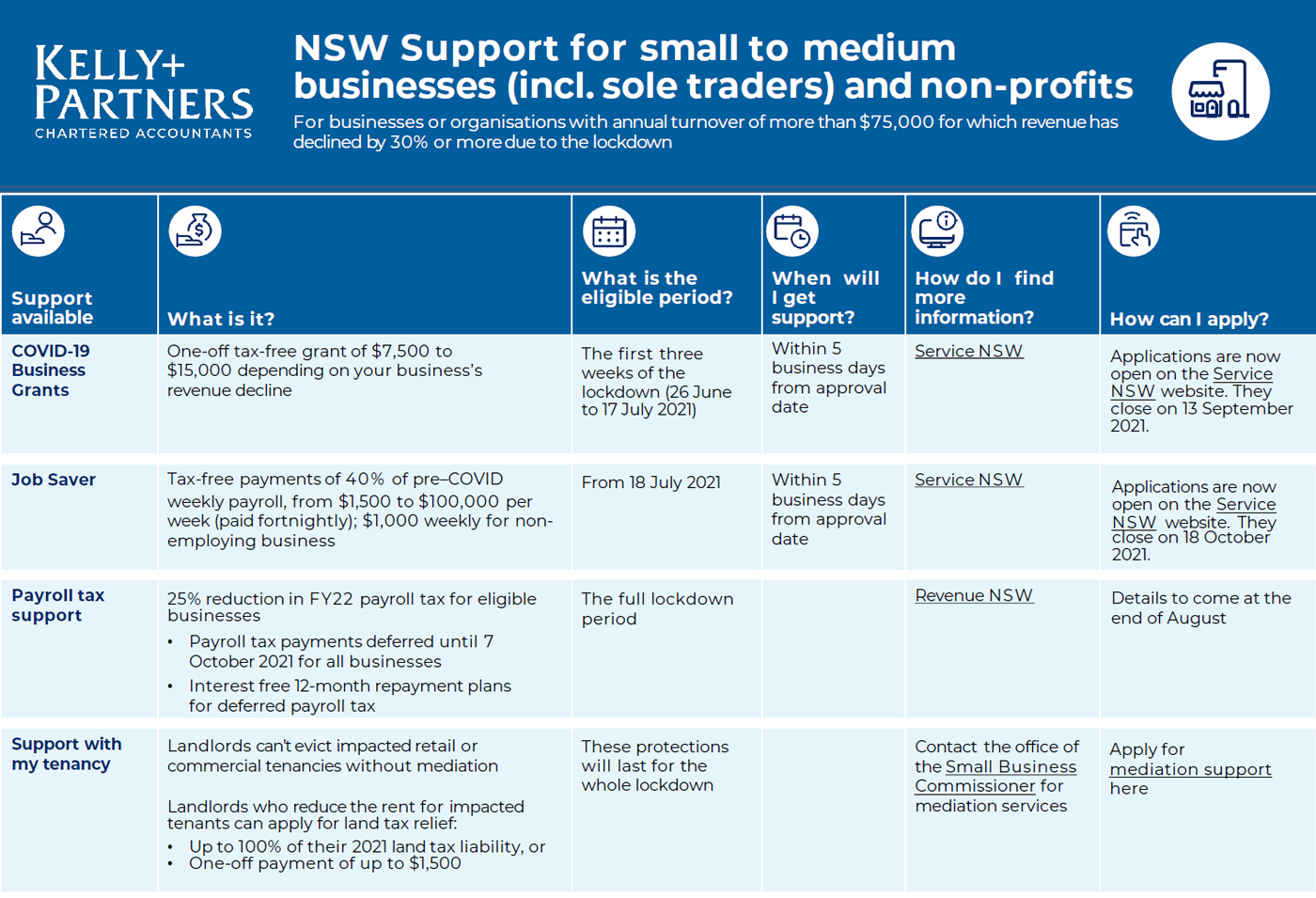 Non-occupied construction
Construction work beyond the 8 LGAs listed above may re-commence construction work from July 31, 2021 as long as COVID safety plans are in place and work is contact-free or in non-occupied sites.
"We will also allow limited activity for contactless tradies, so tradies come to a premises, without having contact with anybody and undertake work, that will be allowable" said the Premier.
Site preparation for Construction may commence from 29 July 2021.
Individual COVID-19 Disaster Relief
From next week, the COVID-19 disaster payment will be increased to a maximum of $750 per week up from $600 for workers who have lost more than 20 hours.
The payment for less than 20 hours will also increase from $375 to $450.
Support for people on welfare payments will also be available as they will be able to receive a boost of $200 if they have lost more than eight hours.
If you are not already receiving these payments, you will be able to apply from Tuesday 3 August at Services Australia.
Residential Landlord Grant
Residential landlords not subject to land tax can apply for either:
a $1500 grant to residential landowners to pass onto their tenants, or

a concession of up to 100% of 2021 land tax
To be eligible, landlords must provide at least that much rental relief and tenants must have lost 25% or more of their income. This grant is available for rent reductions made from now until 31 December.
You are only eligible for one of two options listed above, so please decide which best suits your situation prior to applying. Click here for more information.
Useful links:
Over 56,000 business applications have already been received with $118 million paid out. For any questions, please do not hesitate to get in contact with your Client Director. Not a Kelly+Partners Client? Book a discovery session today.