The Australian Bureau of Statistics has shown that two-thirds of businesses across all sectors have taken a cashflow or revenue hit directly because of the COVID-19 pandemic and ensuing lockdown. Despite 70% of hospitality businesses reporting that they've had to alter their operation and staffed hours, Jan Hackenberg of La Tartine shares with us how his optimistic, forward looking attitude pushed the bakery through the crisis to come out on the other side.
Based in Somersby on the Central Coast, La Tartine is an artisan bakery that specialises in organic wood-fired sourdough, a rare gem among the variety of bread available to us in 2020 at every corner store and supermarket.
As a client of ours here at Kelly+Partners, we were lucky enough to chat with Jan Hackenberg who is the Head Baker and wholesale business owner of La Tartine Bakery. Jan shares with us his fascinating backstory which begins in East-Germany, how COVID-19 has impacted the business throughout 2020 and thanks four key figures in his life who have shaped his pathway and journey to business owner.
The story of La Tartine begins in France in 1987 where founder Nick Anthony and his wife Lottie started trading and distributing sourdough to local village shops and markets. In 1997, the Anthony family packed their bags for Australia to become the second certified organic bakery in the country and first bakery specialising sourdough.
Since these humble origins, little has changed at La Tartine with all family members continuing to play active roles in the company alongside new wholesale owner, Jan.
1. JAN, TELL US A LITTLE BIT ABOUT YOURSELF AND HOW YOU GOT INVOLVED WITH LA TARTINE
I was born in East Germany in 1974, which is something I'm very proud of because today I'm able to value everything democracy brings to people here in Australia. I learnt my trade in 1990 in a small village on the outskirts of Potsdam near Berlin. After the reunion of Germany, I used this newly given freedom to travel and moved to Australia in 2001.
I'm a father of four children and husband to a very strong woman who is the force behind all that I am. Since January 2016, I have taken over and owned the wholesale business side of La Tartine after working for 15 years alongside Founder, Nick Anthony.
2. HAVE YOU PIVOTED YOUR BUSINESS AT ALL DURING COVID? HOW HAS THE PANDEMIC IMPACTED YOU?
When COVID -19 came along we suddenly faced a 45% drop in customers. Shops and cafés started to close and job confidence within our staff deteriorated. The first thing we did was communicate to our customer base and people that we would try to work out the best way to help and continue the business.
From there we had to start thinking outside the box, and not just be a 'café' but also look at how we could identify as an essential business. We looked for opportunities to sell our bread directly to the public with cafés being so heavily impacted. A great example of our COVID-19 response is our partnership with "Usui Café" at The Entrance, who we worked closely with to open a direct fresh bread shelf at the café. This was great because Marwin from Usui Café was able to sell our bread for us, and we were able to return the favour by telling our local customer base to go there to buy the same fresh bread so increasing public flow and traffic to the café.
So instead of seeing COVID-19 as a pandemic, we've used it as a force and opportunity think outside the box, the result has been 50% growth in the last 6 months.
3. WHAT'S SOMETHING YOU'RE PROUD OF ACHIEVING IN 2020?
Mastering the challenge of COVID-19, and keeping the future alive for our staff, I would say is our greatest achievement of 2020 without a doubt.
4. WHAT'S ONE THING YOU KNOW NOW THAT YOU WISH YOU KNEW WHEN YOU WERE STARTING YOUR BUSINESS?
Since I've been working in the industry as an artisan baker for 30 years, we learn a lot about judging ingredients, the climate, and how to run a production line in the most efficient way. What you don't learn as a baker is what happens behind the scenes, things like the importance of cashflow and customers paying invoices on time. You can have a business with good numbers on the invoice book but if they don't pay on time, you'll be in real trouble.
Something else that surprised me was the amount of time and work involved in running the business itself, without even considering the baking part. I'm very lucky to have a strong support system in my wife and her family, who also run a small business which is always just a phone call away to talk through ideas.
5. WHAT DOES A TYPICAL DAY AT LA TARTINE LOOK LIKE?
A day at the bakery runs like a well-oiled clock. I start the day by entering all orders and mixing the doughs by 7am. The dough then needs to rest for a minimum of one hour which is followed by hand shaping the doughs until 3pm — all good sourdough requires 8-hour proofing time.
In the late afternoon, we start baking our products so that late at night we're ready to pack the products for customer orders and get them ready for dispatch by 1am. Due to the size of the Central Coast and the fact that some of our customers operate from remote locations, delivering the bread can take up to 7 hours.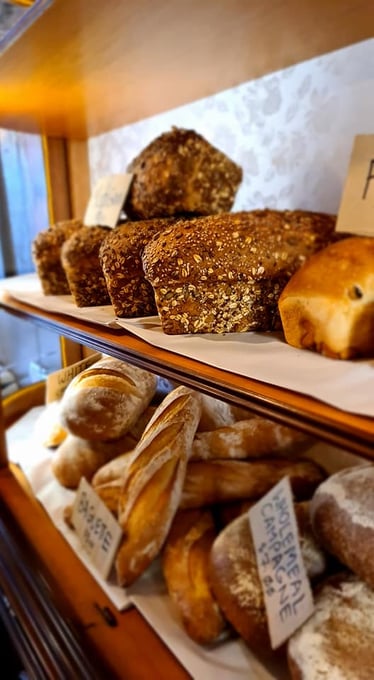 6. HOW DOES BEING BASED IN THE CENTRAL COAST IMPACT YOUR BUSINESS OPERATION?
We see being a business on the Central Coast as big advantage because we get to capitalise and serve not only the Central Coast as a market in itself but we are also within arm's reach of Sydney and Newcastle. The biggest struggle we find being based in the Central Coast is finding the right work force.
7. DO YOU HAVE A BUSINESS HERO? WHO'S SOMEONE WHO HAS INSPIRED YOU OR YOUR BUSINESS?
In life we walk and search for people to silently follow, I personally have chosen so far four people, who have inspired me and the business.
First, is my Master from our small village in East-Germany who taught me skill the artisan bread-making. This was something he taught manually due to a lack machinery. I still remember Saturdays sitting on the oven reflecting on the week and our dreams.
The second, is Master Knut who explained the importance of having 10% set aside for the hard times. Every year, he invested in property, selling, reinvesting and using the profits to keep his bakery updated – gosh how I loved to listen to him.
Then there was the Father of my best school friend Bernd Rogler who worked himself up the ladder to become a successful businessman after the collapse of East-Germany. One year he set me up in a small fast food store and taught me the simple ways of commerce and encouraged me in life to think big and small.
Finally, Nick Anthony the Founder of La Tartine is very special because he is a great teacher - always asking questions to make you think and explaining why he does things the way he does. Working with Nick showed me the need for a strong right hand which is something of value you can't measure in dollars, it is a personal connection and the desire to help someone reach their dreams. He has in the end become the man who dipped me in the cold current of being a business owner on my own accord, he said "find someone who can replace you, because you are me now".
8. ANY FINAL REMARKS?
On a personal note, keep dreaming, be wild, and listen to the stories of people. If you find someone interesting, follow them until you've drunk all the information and teachings you can get. Read books - I highly recommend "The Alchemist" by Paulo Coelho. Finally, always think of the service you can bring to other people, and in return, people will look after you… I learned that from my wife.
Keen to hear more? Check out our full blog and insights page here
Head over to La Tartine's website here and be sure to follow them on Instagram and Facebook